Situated in the South West but now delivering all our courses virtually and also across 8 locations nationally, Skilltec Training are fast becoming the Training Provider of choice to clients large and small right across the country.
We are currently looking for smart, motivated individuals with the drive to help us grow and succeed. You should have excellent interpersonal skills and not be afraid to contribute your own voice and face new challenges.
Our employees are our most valuable asset and the source of our ingenuity. We reward hard work and ambition with growth opportunities and an attractive compensation and benefits package.
So, do you want to make a difference and have fun doing it?
Apply now!
Three new socially-distanced starters join our Business Development Team today - please welcome Claire, Jack and Matéo!
If you are looking to join a progressive, innovative, fast-moving company then get in touch with us.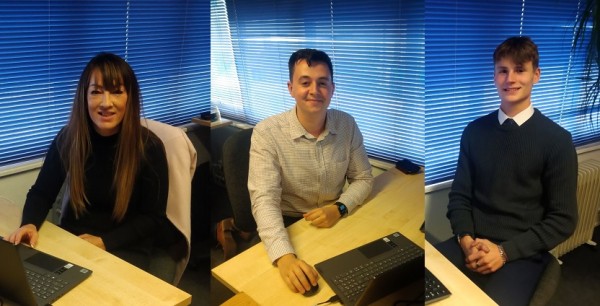 Current Opportunities
Position: Graduate Business Development Executive
Location Plymouth City Centre
This is a great opportunity to make your mark in a fast-growing people-focused training company. We develop and deliver a broad range of bespoke and vendor-written training courses for SME's through to major internationals. We are looking for two ambitious self-driven individuals to join our Business Development Team and support the next stage of our journey.
You will need exemplary communication skills as you will be talking to senior executives across a wide range of industries and you will need to combine with personality and charm. A graduate, or with equivalent experience, you will need to be quick-thinking and switched on, comfortable with change and able to think outside the box. This is a fast-moving environment and only the best will keep up.
Position: IT Trainers
Location Various locations across the UK
Employment: Associate
Due to the continued expansion of our training services across the UK we are currently looking for experienced IT trainers covering all parts of the UK and with a wide range of delivery skills. We are currently looking to work with IT Training associates with any of the following technologies:
Microsoft Technical Trainers (MCT's) – particularly Microsoft 365 / Azure / Desktop Administration
For either position, please email your CV in the first instance to enquiries@skilltec.co.uk along with a covering letter highlighting your strengths and experience and we will be in touch.